PERFORMANCE PROGRAMS
The following are some of our ensembles and projects available for performance, touring and residencies.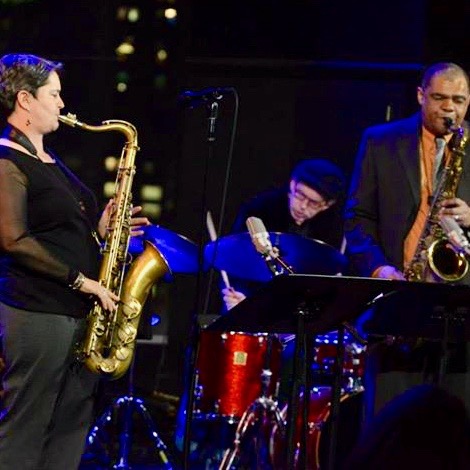 The Jessica Jones Quartet is an improvising jazz ensemble which performs original experimental music. Their music derives from the jazz tradition using structured original compositions as a framework for freer improvisation. Combining two tenor saxophones with bass and drums, the group creates a rich and exciting new sound world. Drummer Kenny Wolleson and bassist Stomu Takeishi bring energy and life to the compositions of Jessica Jones and her husband and fellow saxophonist Tony Jones. The eclectic musical backgrounds of the band members give the music breadth of character and texture while remaining firmly rooted in tradition. The band has toured extensively, especially on the east and west coasts, and released four albums. Downbeat hailed their 2016 release, Moxie, "a chordless marvel, a lean and grooving program of six tunes that maintains a taut liveliness from beginning to end." Poets, storytellers, and other collaborators from Tristano-lineage Connie Crothers to innovative jazz French horn player Mark Taylor have been augmenting the core quartet as the band continues to explore creative alliances and seek new adventures. Their latest album, Continuum, is available on Reva Records. For more info on the band, go to Jessica's website.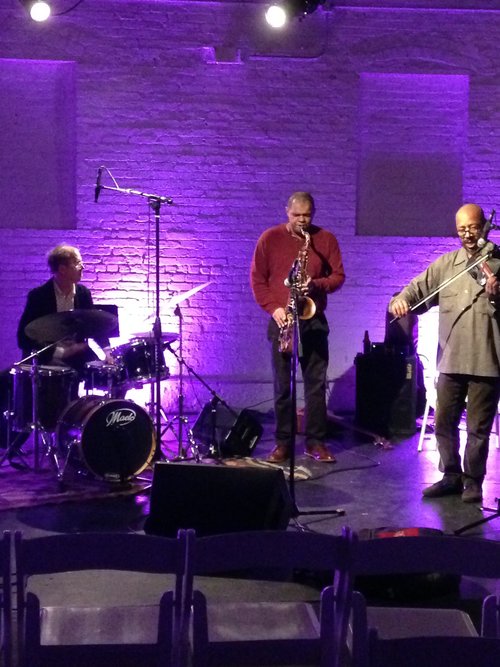 Pitch, Rhythm and Conciousness
Pitch, Rhythm and Consciousness
This project, spearheaded by Tony Jones, features a creative improvising trio of Tony on tenor saxophone, Charlie Burnham on violin, and Kenny Wollesen on percussion. The group creates sonic landscapes suing an astonishing palette of textures, influenced by music from around the world and deftly balancing their diverse interests. Their latest record adds cellist Marika Hughes, and is available on Reva Records. Their first album, an eponymous LP, is available from New Artists Records here.
An all-women opera, 'Post Pardon, The Opera', premiered as a work in progress in 2014 with a grant from the City of Oakland, a performance praised as " beautiful, haunting and unexpected" by the Daily Californian, which went on to say that the "skilled portrayal of such emotional gravitas crushed and overwhelmed the packed house.' A collaborative musical production by Oakland-based poet and playwright Arisa White and composer Jessica Jones, the libretto is an adaptation of the poetry collection, Post Pardon, written by White, which, through the use of Caribbean and Greek mythologies, explores the interior landscape of an African American woman who contemplates life: the taking of her own and that of her only child.
Post Pardon is a layering of four distinct voices. White wanted to create in Post Pardon a feeling of an echo, a splintering of the self into many, to illustrate that in the head is housed a chorus. With Post Pardon: The Opera, Jones takes the written word to a heightened level of expression by articulating the nonverbal qualities of grief, loss, and strife. Many genres of music are incorporated on this empathetic journey through a mythical narrative, rooted in an urban space, that addresses the notion of inherited sorrows.
This "family band' is comprised of parents Jessica and Tony Jones on piano and saxophone respectively, son Levi Jones on bass, and daughter Candace Jones on vocals whose sparkling tone arrests audiences with its range and purity of sound and emotion. The group performs Jessica's originals and the band's creative arrangements of jazz standards. They released one album, "Word," to critical acclaim, available here